From usaswimming.org
COLORADO SPRINGS, Colo. – Ahead of the 2019 FINA World Junior Championships in Budapest, Hungary in August, USA Swimming today named Crystal Keelan (Penn Charter) and Billy Doughty (Davis Swimming) as head coaches of Team USA's women's and men's FINA World Junior Championship teams, respectively.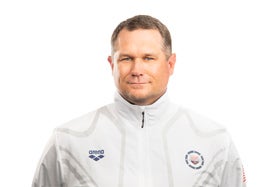 Doughty took over the Davis (DART) program in the fall of 2009 and has earned Sierra Nevada LSC Senior Coach of the Year honors for each of the last six years. In 2018 he recorded the most successful year of his tenure, when three of his swimmers (Gianluca Urlando, Emma Barksdale and Chris Wieser) were selected to the U.S. National Team. He also helped Urlando to a strong showing at the 2018 Junior Pan Pacific Championships, where he earned four gold medals and one silver.
In 2016, eight DART athletes qualified for the USA Olympic Team Trials – Swimming. Only one year earlier, DART earned a USA Swimming 'gold medal' award, which recognizes USA Swimming's highest-performing clubs in the development of athletes ages 18 years and younger, and has achieved 'silver medal' honors since 2014. Prior to Davis, Doughty served as the Head Coach for the City of Mobile Swim Association, as well as Head Site Coach at Palo Alto Stanford Aquatics. Doughty swam at Clemson University and the Huntsville Swim Association.
Dalton added: "(Doughty) has been a staple in club swimming for over a decade. His athletes have consistently performed at the National level. He is a planner, thinks ahead, is prepared, organized, hard-working and thinks big picture. His leadership at the 2018 Mel Zajac and Junior Pan Pacs competitions proved he will be an exceptional leader for the Junior Team this summer."
The 2019 FINA World Junior Swimming Championships take place August 20 – 25 in Budapest, Hungary. Competition will take place at the Danube Arena, which was constructed in 2017 and is dubbed as the "most modern indoor swimming pool arena in Europe."
Full Article:
http:// https://www.usaswimming.org/news-landing-page/2019/04/10/crystal-keelan-and-billy-doughty-named-team-usa-head-coaches-for-2019-fina-world-junior-championships?fbclid=IwAR13oCgs4_sKpykTq5hwPJqdSaQdlV1hI7DTgb8GtshHFxPu5y32kDqgGak"